Service & Conservancy Charges
Normal Rates*
Reduced Rates

1-room Flat

$58.00

$20.50

2-room Flat

$62.00

$31.00

3-room Flat

$68.50

$46.50

4-room Flat

$75.50

$63.50

5-room Flat

$86.40

$79.50

5-room (3-Gen) Flat

$90.00

$81.00

Executive apartment/masionette

$102.00

$102.00

Multi-Generation (models 07)

$113.50

$113.50

Multi-Generation (models 08 and 09)

$107.50

$107.50

Design, Build & Sell Scheme Flats

2-room Flat

$68.00

$35.50

3-room Flat

$75.00

$61.30

4-room Flat

$84.50

$73.00

5-room Flat

$99.50

$99.50
* Normal rate applies to a flat under items 1 to 4:
Where none of the owners, tenants and none of the authorised occupiers are citizens of Singapore;
Where

in the case of a flat sold by the Board — any owner or essential occupier of the flat; or
in the case of a flat let out by the Board — any tenant or authorised occupier of the flat,

has an interest in any residential property not owned by or vested in the Board, or in any industrial or commercial property, whether or not owned by or vested in the Board;
Which is owned or let to any body corporate; or
Which is vacant.
Rates (Per month)
Shops
2.20/m2 (min $70.50)
Additional Accommodation
1 Room
$62.06
2 Room
$66.34
3 Room
$73.30
4 Room
$80.79
5 Room
$92.45
Other Commercial
Cooked Food Stall
$184.10
Piece and Sundry
$110.50
Fruits, preserved & dried goods, fresh fish & seafood, meat or poultry
$95.80
Vegetables, beancurd and noodle eggs, ground assorted spices or misc stall
$58.90
Market Centre
$2,030.86
To apply for Temporary Occupational License (TOL), please click here for the relevant forms.
Methods of Payment
S&CC is payable on the 1st of every month without demand (i.e. no invoice will be sent for residential units).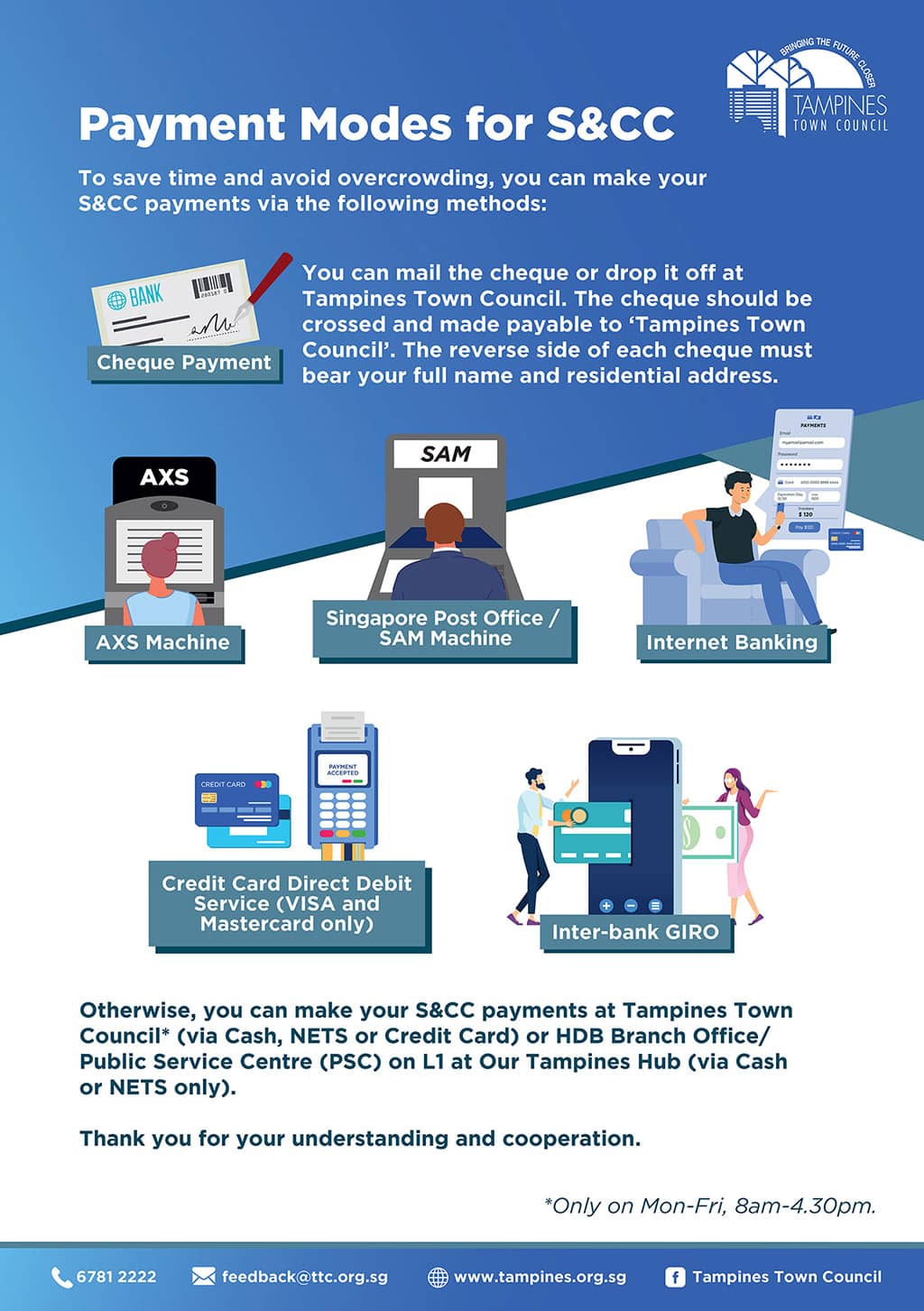 To download GIRO form, please click here.
To terminate GIRO, please visit your respective bank at their branches.
For Credit Card Recurring Payment, please download application form here.
Late Payment Penalty
Impose late payment penalty fee of 2% per month of outstanding S&CC for residential units and 5% per month of outstanding S&CC for commercial units.
Disallow use of common facilities except on compassionate grounds such as funeral wake.
Take private summons to recover arrears.
Recover all legal and administrative costs incurred.
Work with HDB to tag the sale of season parking tickets.