Cycling Town
Cycling is an environmentally friendly and a healthy mode of transport and Tampines, being a compact town is an ideal choice for a model cycling town. Taking Tampines MRT station as a focal point, the furthest block is only 2 kilometres away. With facilities, schools and shops in close proximity, more and more residents are choosing to cycle as their preferred mode of transport to travel about in Tampines.
Making Tampines a Cycling Town
"The cycling on footways trial"™ was a tripartite effort initiated in Tampines by its Grassroots Organisations, the Town Council, Traffic Police (TP) and the Land Transport Authority. It was conducted in response to the increasing trend of residents cycling on the footways, although it is illegal. It started on 27 May 2007 and ended on 31 Jan 2009.
The tripartite decision to legalize sharing of footways came after careful thought, and after assessing the feedback received from residents. The tripartite committee concluded that while there is general acceptance of the trial in Tampines Town, cycling on footways is feasible and sustainable only if all three key features identified "infrastructure, education, and enforcement" are implemented together.
Efforts by the Tripartite Partners
Here are some improvement measures taken by the tripartite partners:
Land Transport Authority
Widened the Pedestrian Crossings at 10 locations
Installed "Cyclist Dismount" Signs at 7 Locations
Lengthened "Green-man" Time at 3 locations
A total of 1.2km of footpath covering 3 main locations in Tampines was widened to 2.0 m.
Provided 247 nos. of sheltered bicycle parking facilities near the Tampines MRT station in Aug 2009 as part of a pilot project.
In addition to the 2.3km dedicated tracks provided by the Town Council, LTA will be building 6.9km of dedicated tracks in Tampines by 2012.
Traffic Police
Production of educational, publicity materials. These include brochures, posters and banners. "Safe Cycling Video"™ in English with subtitles in Thai, Bengali and Chinese was also produced. Emphasis was placed on education of the cyclist in two main groups, ie, the younger ones and the foreign workers.
Conducted talks and exhibition to 14 schools in Tampines GRC.
Outreach to foreign dormitories with large number of foreign cyclists within the area.
Conducted two enforcement blitzes with cycling wardens on 23 Nov 08 and 7 Dec 08. Purpose is to educate and enforce against errant cyclists.
Tampines Town Council
Constructed a bicycle track behind bus-stop at Blk 302 Tampines Avenue 2.
Constructed two stretches of bicycle lane, 2.3km long as a pilot project.
Worked closely with LTA to follow up on the implementation of the 6.9 km dedicated bicycle tracks.
Working on the by-laws to regulate safe cycling on footways.
Engaging Auxiliary Police Officers to conduct patrols with cycling wardens, and carry out enforcement against reckless cyclists.
Provided 8,790 bicycle parking facilities in the estates.
Set up and administer the Online Bicycle Identification System (BIDS)
Tampines Grassroots Organisations
A total of 120 cycling wardens were recruited. The cycling wardens were deployed to educate cyclists and pedestrians on safe sharing of footways.
"Encouraged Residents"™ Committees to form cycling clubs and use the cycling club as a platform to educate all cyclists on the importance of personal safety, having the basic gadgets, the importance of giving way to pedestrians when cycling in groups and to emphasize that the pedestrians still have the right of way.
Check your bicycles before your ride. Ensure it is in good working condition.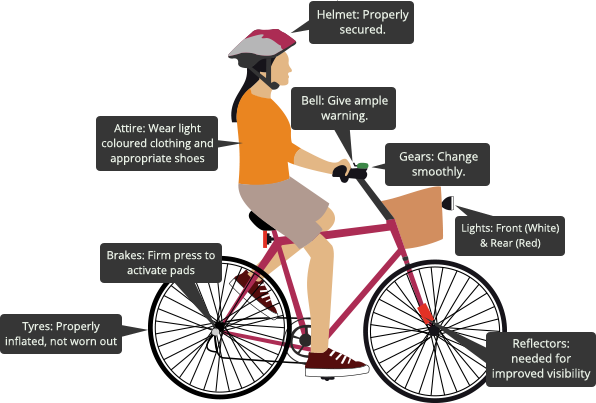 ---
Responsible Cycling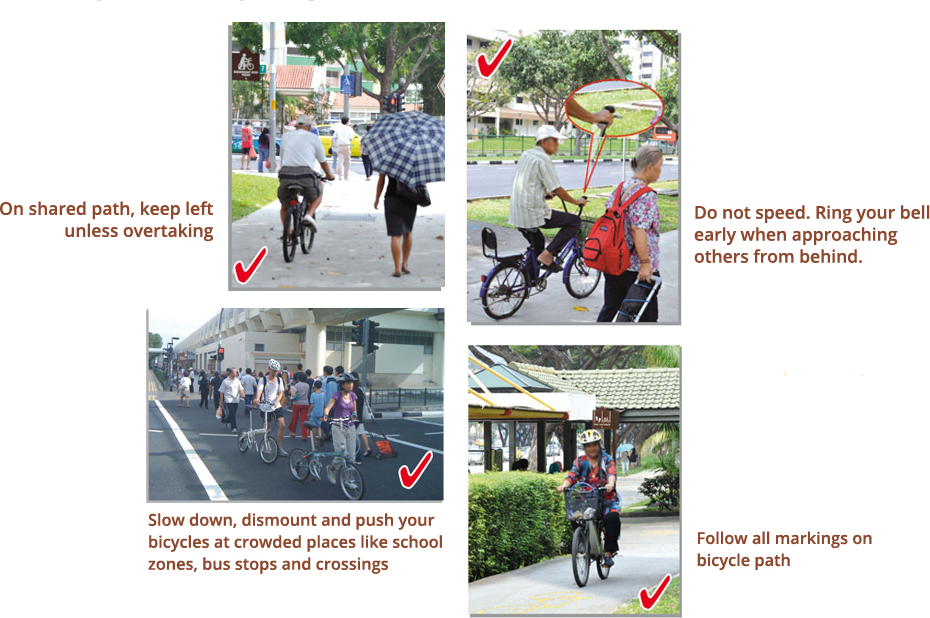 ---
Cycling Offenses
FINE up to $5000/-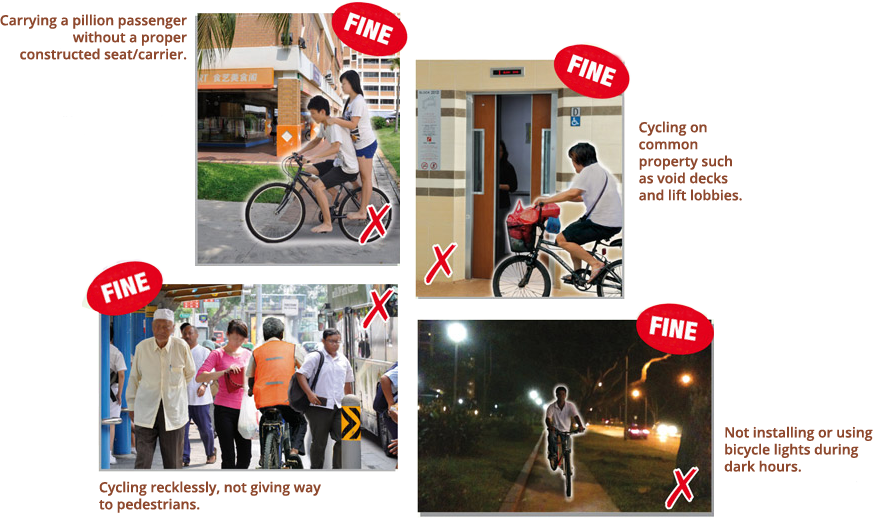 23 May 2016

Tampines first to launch high security labels for bicycles

Tampines is the first town in SIngapore to launch high security labels for bicycles as part of Its efforts to become a model cycling town. The tamper proof labels contain security features and offer cyclists a unique identifier for their bicycles. Bicycle owners are encouraged to register their bicycle security labels in the online Bicycle Identification System (BIDS) administered by Tampines Town Council.

09 Feb 2016

Improvements made for cycling on footpaths

Letter from Ms Soh Chor Yin, General Manager/Secretary, Tampines Town Council in TODAY newspaper.

21 May 2012

A Community Safety and Security Programme (Anti - Bicycle Theft Project)

Tampines estate was introduced as the first cycling town in Singapore where cyclists are allowed to ride their bicycles on footpath. With the increase in the number of cyclists and bicycles, Changi NPC and Tampines NPC and Tampines Town Council came up with this initiative to curb bicycle thefts.

22 Jan 2011

Future Cycling Networks

Under the Tampines Masterplan 2011 - 2015, the cycling network in Tampines wil be enhanced with more cycling paths.

25 Apr 2010

Less abandoned bicycles found in Tampines

In the bid of becoming a model cycling town, Tampines Town Council conducted a ground survey in July 2008 and found1, 560 derelict bicycles in Tampines.

To look into the problem of abandoned bicycles, a Derelict Bicycle Removal programme was introduced by Tampines Town Council last year and has since helped reduce the number of abandoned bicycles.

10 Mar 2010

Tampines Town officially became Singapore's first model cycling town

Cycling on footways is legalized in Tampines Town from 1 March 2010 onwards. It is the only town where cycling is allowed on footways and auxiliary police officers, together with the volunteer cycling wardens are conducting regular patrols at different hours of the day.

13 Dec 2009

Town Council bylaws on bicycle use to come into operation

The Tampines Town Council bylaws on bicycle use have been gazetted and will come into operation on 1 March 2010. Click here for a copy of the bylaws.

The new cycling by-laws will allow the Town Council to take enforcement action against reckless cyclists as a last resort. The Police will continue to investigate those cases where injury is caused, under the existing laws. Tampines will be the only town where the footways are shared by both the cyclists and the pedestrians. Click here for a copy of the media release and click here for a copy of Mr Masagos' speech.
You may contact us at the following:
| | |
| --- | --- |
| Tampines NPC | 1800 587 1999 |
| Changi NPC | 1800 587 2999 |
| Tampines Town Council | 6781 2222 |
| Traffic Police | 6547 0000 |
| Land Transport Authority | 1800 225 5582 |
| Tampines East Community Club | 6786 3227 |
| Tampines West Community Club | 6783 7910 |
| Tampines Changkat Community Club | 6781 1806 |
| Tampines Central Community Club | 6785 8292 |
| Tampines North Community Club | 6783 2900 |